---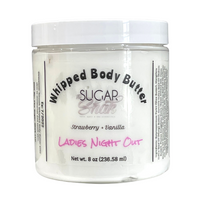 A refreshing blend of fresh strawberries with a hint of warm vanilla, enriched with skin loving nutrients that promote healthy skin care.  It's Lightweight and soft texture will smooth onto your skin like warm butter, to sooth & moisturize your body from head to toe! 
Directions: Smooth on your body after a warm bath or shower for luxurious, silky smooth skin!  
Ingredients: Shea Butter, Cocoa Butter, Pure & Unrefined Coconut Oil, Sweet Almond Oil, Grape Seed Oil, Vitamin E, Fragrance 
*** This product is not intended to diagnose, treat, cure or prevent any disease. 
*** Bulk and wholesale orders are available upon request. 
Your purchase of this item automatically enters you into our Customer Appreciation Raffle - Good luck!