---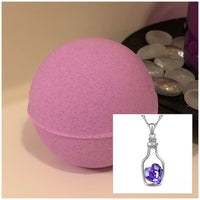 An impeccably blended aroma of lavender flowers, infused with pure shea & cocoa butters! 
Our Bottle of Love Bath Bomb will make the perfect gift for any occasion! 
Directions: Add bath bomb into warm bath water for a soothing, luxurious spa experience! Sit back, relax, and enjoy as the beautiful Bottle Of Love Surprise Necklace is revealed!  
Available Sizes:
Mondo (7 oz - the size of a baseball)
Ingredients: Baking Soda, Citric Acid, Shea Butter, Cocoa Butter, Sunflower Oil, Coconut Oil, Sweet Almond Oil, Polysorbate 80, Cornstarch, Kaolin Clay, Fragrance, Colorant, Witch Hazel   
*** This product is not intended to diagnose, treat, cure or prevent any disease 
*** Bulk and wholesale orders are available upon request. 
Your purchase of this item automatically enters you into our Swag Customer Appreciation Raffle - Good luck!