---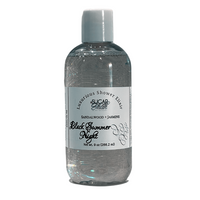 Fragrance Notes: Sandalwood + Jasmine  
Directions: Rinse body with warm water.  Use a sizable amount of body cleansing shower elixir to cleanse skin.  Massage onto skin for 15 seconds and rinse with warm water.  
Ingredients: Water, Sodium Laureth Sulfate, Sodium Lauryl Sulfate, Cocamide MEA, Cocamidopropyl Betaine, Preservative (Phthalate Free, Methylchoroisothiazolinone, Sodium Chloride (Salt), Methylisothiazolino, Sunflower Oil, Fragrance (Phthalate Free), Colorant
*** This product is not intended to diagnose, treat, cure or prevent any disease. 
*** Bulk and wholesale orders are available upon request. 
Your purchase of this item automatically enters you into our Customer Appreciation Raffle - Good luck!